Before rushing off to work, you might just want a nice cup of coffee to start your day.
But, rather than going over to the nearest coffee shop, wouldn't it be so much better if you could make an excellent brew in just a few minutes at home? That would be ideal of course!
And what's the best way of getting that excellent brew you need before getting off to work? It's through a pour-over coffee maker.
Pour-over is the preferred method of preparing coffee by many coffee connoisseurs because, when done correctly, it produces an extraordinarily robust and rich brew that is far superior to that of standard drip machines.
Short Answer: There are many pour-over machines on the market right now, but I've chosen the top three that I believe will be a great addition to your repertoire of coffee-making devices: the Chemex Classic Series Pour-Over Glass Coffeemaker, the Bodum Pour-Over Coffee Maker, and the Yitelle Stainless Steel Pour Over Coffee Cone Dripper.
I urge you to continue reading to learn more about this method of brewing coffee and how a pour-over coffee maker can improve your coffee-drinking experience. I'll also give a detailed review of the best pour-over coffee makers I mentioned above to help you get the most out of your reading time.
Why use the pour-over method?
When compared to other brewing procedures, the pour-over method prioritizes bringing out nuanced flavors. It lets the coffee flavor and aroma shine, making it a popular choice for single-origin coffees.
One of the most important things you should have when doing the pour-over method is a good coffee filter. It should be clear, clean, and consistent.
This is because the water in this method removes the coffee oils and smells under its own constant pressure. The filter captures the oils, resulting in a clean cup of coffee.
Since this is an infusion process, it's more effective at extracting coffee solubles than immersion methods such as the French press, which cause the water to become saturated, whereas pour-overs make use of freshwater.
If you want to learn more about pour-over coffee, I have a dedicated post about it right here.
What is a pour-over coffee maker?
It's a funnel-shaped device that requires a hand-pouring technique to pour hot water (195–210 °F) through fresh coffee grinds in a filter into a mug or a carafe.
What's the advantage? It gives you complete control over the brewing process, allowing you to get the most out of your coffee grinds.
This approach is considered superior to a typical drip machine, which produces normal filtered coffee. A drip machine doesn't have complete control over all brewing factors like the water volume, immersion duration, etc., which isn't always a good thing.
The following table summarizes the key differences between pour-over coffee makers and drip coffee machines.
| | |
| --- | --- |
| Pour-over Coffee Maker | Drip Coffee Machine |
| Produces more flavorful coffee | Produces less flavorful coffee |
| Makes one cup of coffee at a time | Can make large batches |
| Allows total control over the brewing process | No control over the brewing |
| Requires additional equipment | No additional equipment needed |
| Involves a steep learning curve | Very convenient to use |
| Very affordable | Can be a bit expensive |
The pros and cons of a pour-over coffee maker
If you're considering purchasing a pour-over coffee maker, here are the advantages that you'll surely enjoy:
Pros
You get to have great coffee every time if you enjoy learning the skill of doing pour-over coffee
You have complete control over all the steps of brewing your coffee
Makes small batches, ideal for one or two people at a time
It's reasonably prices (though you'll need more than just the brewer)
Precise, consistent results
Pour-over coffee makers are relatively affordable and quite easy to use when compared to other brewing methods (i.e., espresso machines). They're preferred by those who want complete control over the taste of their coffee.
There are a few disadvantages to consider as well, such as:
Cons
Typically makes smaller batches, which may not suit those that desire more than one cup
Takes more time to make coffee than other methods and that's not good if you're in a hurry
Requires learning the craft and using the device

E

xtra equipment is needed like a kettle, scale and a grinder
Needs extra patience
Takes up more counter space
Pour-overs, in comparison to a regular drip coffee maker, demand your undivided attention and patience to get everything just perfect.
Are pour-over coffee makers worth the investment?
Pour-over coffee machines are well worth the price if you want to have:
Complete control over extraction factors like the water temperature and stir frequency
Savor delicious homemade coffee
No waste because you can only make small batches
Is a Chemex just a pour-over?
Chemex and pour-over are both simple brewing methods that produce excellent cups of coffee. They are not, however, exactly the same, and these differences, however subtle, are worth considering.
The main difference between a Chemex and a pour-over is the filter.
Pour-over filters resemble the thin, circular filters found in all automatic drip coffee makers, except they have pointy bottoms. These filters catch all the coffee residue and most of the coffee oils, leaving behind a smooth and delicious cup of coffee.
On the other hand, the Chemex filter is unlike any other filter you've seen before. They're thick and fabric-like and consist of a large square folded into quarters. The coffee grounds are placed within the filter after one corner of the filter is peeled out to form a cone and placed on top of the Chemex.
The thickness of the filter makes a difference in the flavor of your coffee.
The grind in both methods should be considered as well. A pour-over uses a very fine grind, similar to table salt, resulting in a very bold and intense flavor.
In Chemex, a coarser grind, similar to raw sugar, is used. This works well with Chemex's thicker filter and results in a brilliant cup.
Finally, there is a cost difference between these two methods: the Chemex is more expensive than the pour-over, and its filters are nearly twice as expensive as the pour-over filters.
It's also worth noting that compact pour-over coffee makers are more portable than the delicate Chemex, making them a better alternative for travel.
To discover more about how a Chemex differs from a pour-over, watch the video below.
Best pour-over coffee makers
As promised, here are the best pour-over coffee makers in the market that suit your needs and preferences.
Best overall: Chemex Classic Series Pour-Over Glass Coffeemaker 
This pour-over coffee maker's design has been in use since it was introduced in 1941. It has a leather tie strap and an eye-catching wooden collar. It's composed of borosilicate glass, which doesn't absorb scents or flavors and doesn't contribute any unwanted flavors to the coffee.
It can also be used on a glass cooktop over a low flame to keep the coffee warm. The container can also be refrigerated to keep the coffee chilled or for later use.
Advantages
Produces rich, flavorful coffee
Dishwasher safe
Looks great on the counter
Drawbacks
Chemex Bonded Filters are specifically recommended
Breakable glass
Price: $50
Best for home: Bodum Pour-Over Coffee Maker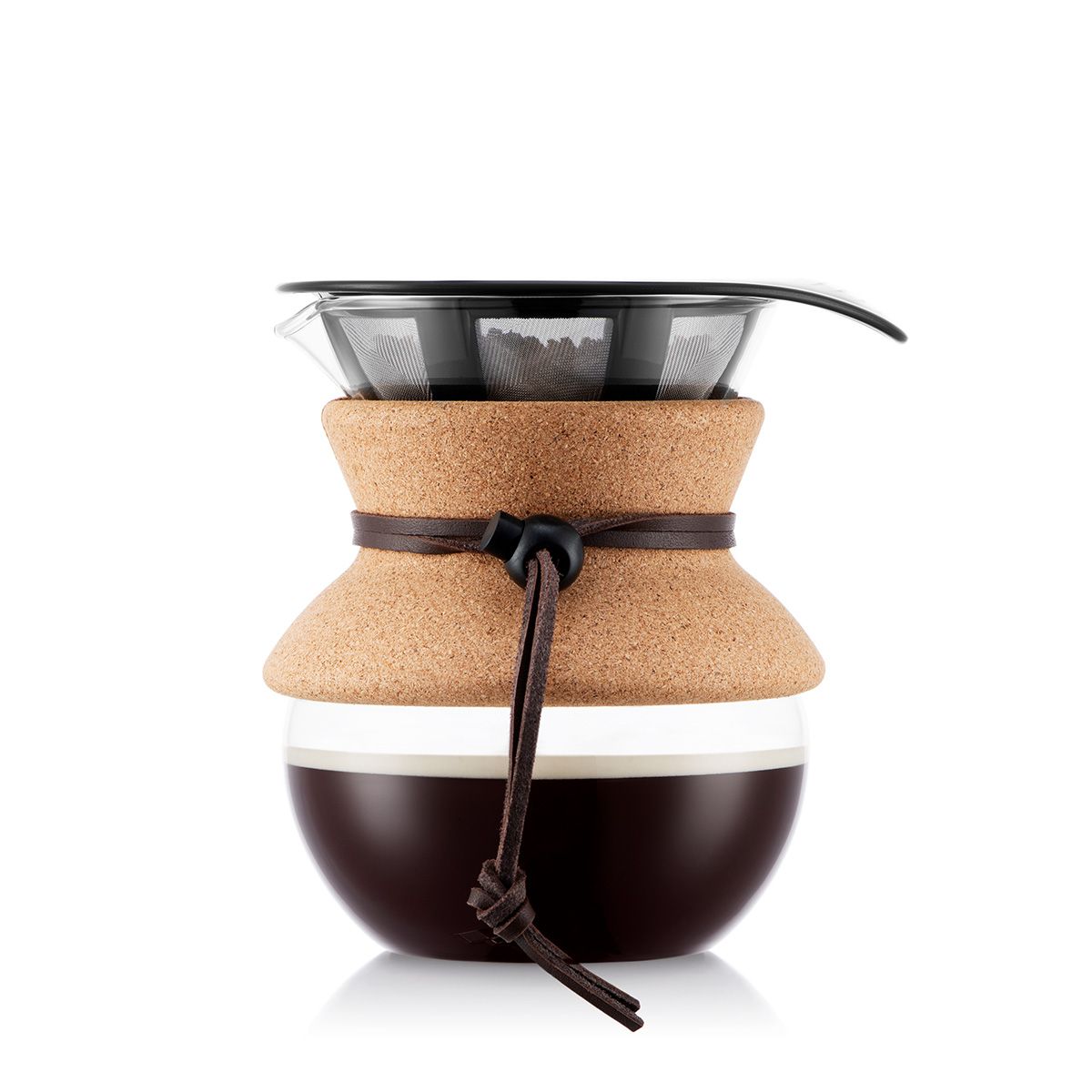 This coffee maker is available in three sizes, each with a different color band to add a splash of color to your kitchen. It also comes with an elegant cork ring, similar to that of a Chemex.
It contains a stainless steel filter, so flavors don't get absorbed by the paper and you won't have to buy replacement filters every now and then.
The borosilicate carafe is heat resistant and dishwasher safe, so cleaning up after you've finished making your coffee will always be effortless.
Advantages
Affordable
Compact and portable
Multiple sizes
Dishwasher safe
Drawbacks
Cheap filter
Poor heat retention
Price: $29
Best for newbies: Yitelle Stainless Steel Pour Over Coffee Cone Dripper
You don't have to worry about buying filters or breaking a glass or ceramic brewer with this Yitelle device, as this durable filter will solve most of your issues.
Because it does not use a paper filter, you get to enjoy all the flavor of the coffee, without worrying about the oils getting trapped by the paper. Furthermore, the fine mesh collects even the finest grinds, so you won't have to drink gritty coffee.
The silicone on the base prevents it from sliding around as you pour, and the silicone handle protects your hands from burns.
The base is designed to fit almost any mug, cup, thermos, or carafe, saving you time to look for a container that will fit perfectly. Although it is dishwasher safe, it comes with a brush if you want to wash it yourself. It also includes a coffee scoop.
Advantages
No paper filters needed
Dishwasher safe
Stays securely on mugs
Drawbacks
Finer grinds may clog filter
Occasionally requires hand-cleaning
Price: $24
To sum it all up
Pour-over is the preferred method of making coffee for many coffee lovers because, when done right, it makes a bold and rich cup of coffee that drip machines can't match.
The methods of pour-over and drip are similar in that they both pass the water slowly through the coffee grounds, but the main difference is that the former is done by hand, which causes a more thorough extraction of flavors from the grounds.
Of the best 3 pour-over coffee makers I reviewed, my personal favorite is the Yitelle Stainless Steel Pour Over Coffee Cone Dripper because it's perfect for beginners like me, it's really inexpensive and I don't have to worry about breaking anything.
As I mentioned, pour-over devices have advantages, such as their affordability and compact size.
As with all things, they too have their disadvantages, as they require you to learn how to brew pour-over coffee and the gadget doesn't do much more than assist you with the pour-over procedure.
But for coffee aficionados who value a bold, flavorful cup of joe, the pour-over coffee maker is definitely a must-have even though it requires effort in learning and mastering the pour-over technique.
Other Articles